About Us:
Catering to the requirements of various industries, we, India Flex Engineering, are a leading manufacturer, exporter, trader and supplier of a complete range of Metallic and Non Metallic Expansion Joint, Metallic Hoses, and Pressure Vessel Equipment. We are also an importer of Nickel products and provide designing solutions for the aforementioned products. Our product range is tailored in accordance with all the established national and international quality norms. In the able leadership of Mr. Kalpesh Patel, who has 20 years of experience in this industry, the company has become one of the most sought-after destinations for the customers in a short period of time.
As a customer-centric organization, we always strive hard to satisfy the customers completely with our services and commitment. We believe in providing the customers with best and, constantly work towards improving our efficiency and standards of our Metallic and Non-metallic Expansion Joint and other products. Such a focused approach has earned us the reputation as a reliable industry player.
Better quality of products could only be gained with better infrastructural set up. Recognizing the importance of having a world class infrastructure, we have invested heavily in the manufacturing unit, R&D and testing laboratory. Spread in an area of 24,000 Square Foot, the manufacturing unit is outfitted with all the latest technology and advanced machinery.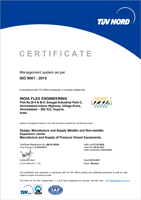 Read More